Board of Directors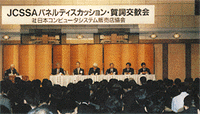 Panel Discussion with exeutives of hardware makers.
Yuji Otsuka

President, Otsuka Corporation

Seiichi Katsuki

Chairman of the Board, JMC Co.,Ltd

Yoko Kanari

President, CCW Co.,Ltd.

Muneharu Hayashi

President , Softcreate Co.,Ltd.

Michihiro Matsunami

Executive Director, Japan Computer System Seller Association

Keizo Toyoda

Director, General Manager of Sales Promotion Div., Daiwabo Information System Co.,Ltd.

Norio Suzuki

President, Nikko Telecommunications Co.,Ltd.

Shoichi Takase

Division Head Commerce & Service Division Commerce & Service, Softbank BB Corp.

Keiichi Tanaka

President, Nippon Jimuki Co.,Ltd.

Hiroshi Sakuma

Senior Vice President and Member of the Board, NEC Fielding., Ltd.

Yutaka Nakagomi

President, System Inn Nakagomi Co.,Ltd.

Takeo Kuno

Managing Director, Kyoritu Computer & Communication Co., Ltd.

Kazuo Hirano

Member of The Board Corporate Senior Vice President, FUJITSU FSAS INC.

Takayoshi Oouchi

President , Ryoyo Electro Corporation

Takeshi Kageyama

President, Toshiba Information Equipment Co., Ltd.

Koji Furuta

Director、Rikei Technical Center, RIKEI Corporatiion

Hirokazu Tamada

President, Hiper Co., Ltd.

Daisuke Kubota

Senior Managing Executive Officer General Manager Solution Business, Ricoh Japan Corporation

Hitoshi Ogawa

President, DIS Solution Co., ltd.

Makoto Taguchi

General Manager Solution Sales Group, Systena Corporation

Shoji Seki

Board of Director, Kaga Solution Network Co.,Ltd

Masayuki Tani

President, Hyper Marketing Inc.

Toshiaki Sato

President & COO, BCN Inc.

Kosuke Hirano

Executive Director, Cloud Computing Business Group, Intel Corporation.

Taro Ohashi

Director, Dempa Publications, Inc.

Susumu Ichioka

President & CEO, Ricoh Logistics System Co.,Ltd.

Shigefumi Wada

President, C.P.A., Obic Business Consultants Co., Ltd.

Akihiko Omikawa

Board of Director Executive Vice President, Trend Micro Incorporated

Kimihiro Inagawa

General Manager, AMD Japan Ltd.

Toshiya Kawahara

Director Partner Sales Group, Microsoft Japan Co.,Ltd.

Akio Hosono

President, I-O Data Device, Inc.

Kiyoharu "Kirk" Ura

President, Quality Corporation

Kuniaki Saiki

President & CEO, Buffalo Inc.

Yoshiro Miyazaki

Vice President, MOTEX Inc.